To ensure the success of any scheme of work, it is absolutely essential to structure our service provision against a common understanding of  what needs to be achieved, and how it is going to be executed.
Nouveau Solutions follows a tried and tested end-to-end methodology that is shared with,  and involves, client stakeholders from the outset.
Aligned to our end-to-end process our service support lifecycle is cyclical and can be broken down into four component parts; People, Performance, Process and Customer Experience.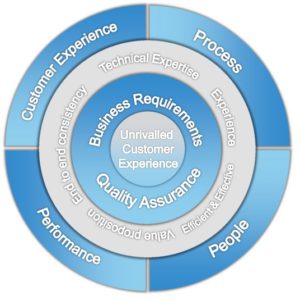 This combined process and overarching management is managed throughout by a dedicated team of specialists who  are responsible for ensuring that deliverables (agency and client) are met.  Regular status updates and reports are produced to keep our service team focused on every aspect of your IT Managed Service requirements.
Our approach provides quality assurance in everything we do.
Creating Great IT Experiences
Our approach to  providing IT Managed Services revolves around  two key objectives:
Create a user experience that is meaningful and enabling;
Design a service aligned to your business goals and objectives.
We're focused on delivering outcomes as opposed to outputs. A  successful outcome is based on the provision of increased reliability and 24/7 availability. Our ultimate goal is to design a service solution that enables both users,  and the client to achieve their desired outcomes, intuitively and efficiently.
We have a holistic approach to IT Managed Services design; from the outset we  create a multi-disciplinary team with in-depth technical expertise. This ensures that  our  service solutions are instilled with joined-up thinking that is advanced in parallel with the  wider client business deliverables.
Customer Relationships
Relationships are the lifeblood of our business, and one of the most valuable assets we have – and we treat them as such. In our experience, the best solutions can only be created through working in close collaboration with  you.
We pride ourselves on developing long-term relationships with our clients,  and to this end, our Customer Experience Team partner with you to deliver against your goals and objectives. We get to know you, your business and  your customers to implement strategic communications that achieve  results, so we're all continuously achieving.
Your Customer Experience Team will be made up of an Account Director, Account Manager, Service Delivery Manager and a Project Manager as required. Account Manager's are responsible for understanding what we, as a team, are working towards. The Service Manager works closely within this team, concentrating on on-time and on-budget delivery of a quality service that is 'on-brief', and therefore meeting your expectations.
Quality Assurance
Nouveau prides itself on quality, and have a range of quality control building blocks; these can be tailored to local needs in the form of a well-functioning operation system, both in the day-to-day quality checks and in the periodic follow-up.  Typically we measure quality via both input and output.  Input would normally be measured through the recording of activity data and ongoing self monitoring of tasks performed.  Output is measured through customer feedback, employee satisfaction and close dialogue with client contract management.
Value for Money
The whole ethos of the operational service provision fully embraces the need for best value, whereby our service framework will incorporate:
Expert staff in-line with industry best practice;
Quality of service driving the provision of the 'right first time' support services to meet client expectations;
High level of customer satisfaction;
Ongoing evaluation of the best cost base, whereby improvements shall be made in order to create efficacy especially in areas where service needs change.